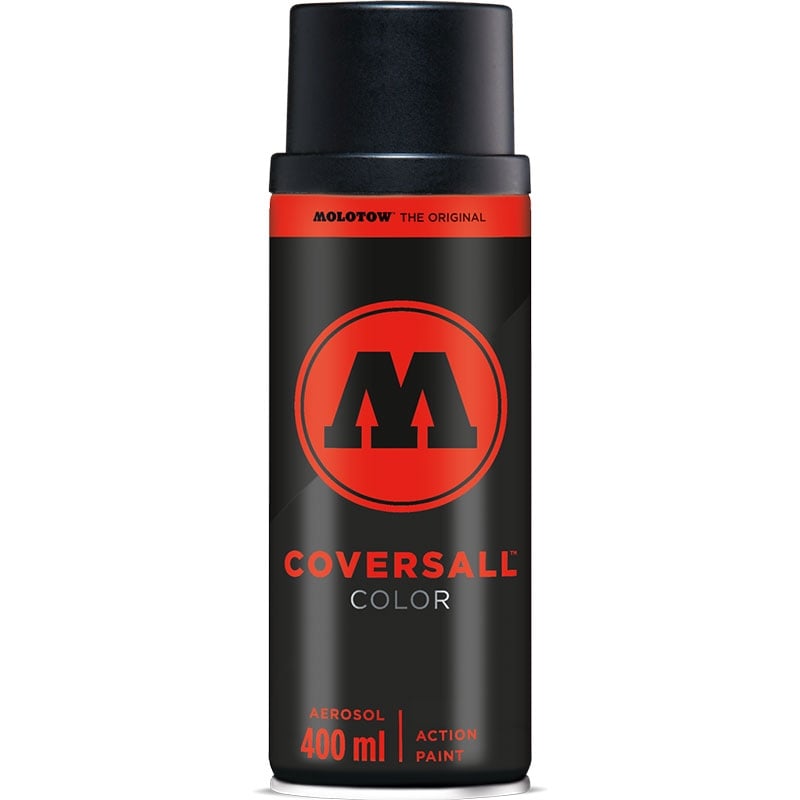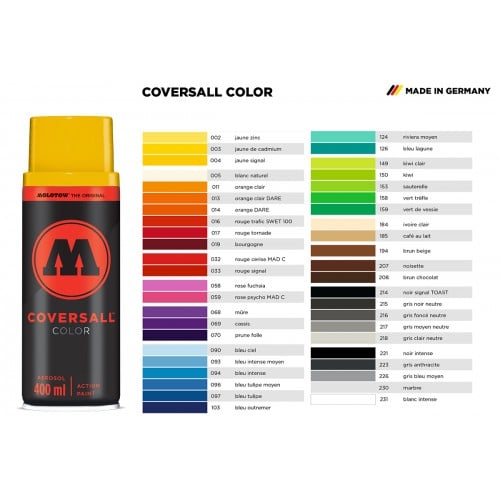 Molotow - Coversall Color (400ml)
CHF

3.00 –

CHF

29.00
Dieses Produkt liefern wir nur in der Schweiz aus!
Molotow Coversall Color (Nitro-Alkyd-Lack aus Deutschland)
Seidenmatt
Schnelltrocknend (nach ca. 5 Min. handtrocken)
Hochergiebig (ca. 2 m2)
Gute Deckkraft
Druck: Hoher Druck
Eigenschaft: Hohe UV- und Wetterbeständigkeit.
Für Auftragsarbeiten im Aussenbereich, Fill-ins und Backgrounds.
Vorteil: Sehr schnelle Aussprührate.
Extra: Kombinierbar mit Molotow-Produkten.
Caps:
Rosa Fatcap: 4-6 cm breite Linien
Astro Fatcap: Bis 10 cm breite Linien
Seit 1996 entwickelt Molotow innovative Technologien, die Farbauftragswerkzeuge zum Maximum optimieren. Die deutsche Firma gehört zu den weltweit führenden Aerosol-Herstellern.
--
Order more Molotow Coversall Color or items by Molotow at our partner shop hard2buff.
--
Delivery in Switzerland only!
Molotow Coversall Color (Nitro-Alkyd-Lack from Germany)
Semi gloss
Fast-drying (hand-dry after approx. 5 min)
Very efficient (ca. 2 m2)
Good coverage
Pressure: High pressure
Characteristics: High UV- and weather resistance.
For commissioned outdoor work, fill-ins and backgrounds.
Advantage: Very fast output.
Extra: Compatible with products by Molotow..
Caps:
Rosa fatcap: 4-6 cm wide lines
Astro fatcap: Up to 10 cm wide lines
Molotow has been developing new technologies to improve colouring tools to the max since 1996. Today, the German company is one of the leading aerosol producers in the world.
File under: Belton, Spraycan, Cans, Sprühdosen, Spraydosen, Aerosol