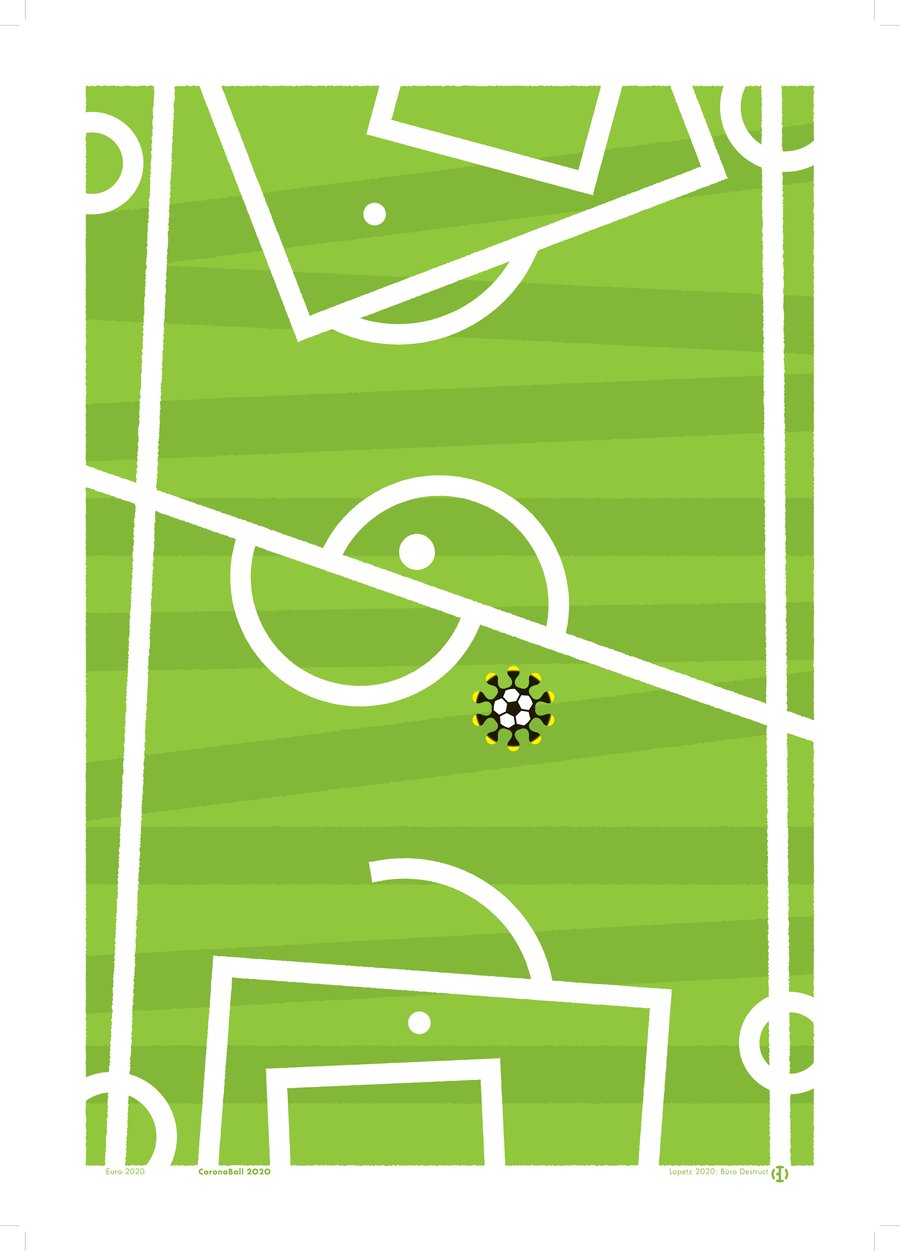 Büro Destruct - Coronaball (Limited Print Fc Stylez 2020)
CHF

50.00
Approximate price/umgerechnet in
USD 55.--/EUR 46.--
Measurements: A2, Affiche paper print, Edition of 25 numbered, Designed by Büro Destruct, 2020.
Für die Ausstellung «FC Stylez 2020» zeigen wir Corona und Fussball. Wie die Faust aufs Auge. Auch der Ball, das Spielgerät von einer der grössten Sportveranstaltungen weltweit, scheint infiziert. Doch er dreht sich weiter – allerdings auf einem aus den Fugen geratenen Spielfeld mit irritierenden Spielregeln. Der Ball und das Spielfeld können sinnbildlich für unsere momentane Weltlage stehen: Schief und irgendwie surreal! In Maske rufen wir entschieden auf den Platz: «Buuh, Corona, wir bezwingen dich»! Doch das Spiel ist noch nicht aus! Hoffentlich geht es nicht in die Verlängerung.
Das 1994 gegründete Kollektiv Büro Destruct gilt als Vor- und Wegbereiter des modernen Schweizer Grafik Designs. Versucht man die Qualitäten von Büro Destruct kurz zusammenzufassen, so liegen sie wohl darin, futuristisch und digital anmutende Gestaltungslösungen zu schaffen, welche gleichzeitig handwerkliche Qualität und entspannte Cleverness spüren lassen.
--
Founded in 1994, Büro Destruct is a trailblazing creative collective at the cutting-edge of Swiss graphic design. In a nutshell, Büro Destruct strengths lie in futuristic and digital graphic solutions that are both skilfully crafted and effortlessly clever.
File under: BD, Buro Destruct, Buro Discount, Swiss, Graphic Design, Poster, Sport, Football